February 2010
Hello to everybody from the Mission staff and its residents. We have truly been blessed these past couple of months and want to thank everyone who has kept us in their prayers and supported us financially. We are at full capacity right now and God is making provision for all the men's needs. We live like a big family here and everyone pitches in to see that things continue to run smoothly. Most of the men with us have either turned their life over to Christ, rededicated their life to God, or are studying to learn more about Him. Some of the men have obtained employment recently despite the lack of opportunity during these winter months.
Much of the new building is finished. The dorm rooms are just about ready for occupancy and the chapel is finished and looking good. The dining room is nearing completiong but recently work has come to somewhat of a stand still because we are preparing to install a new well. However, there is still plenty of inside work that needs to be done, so if God lays it on your heart, stop by and we will bless you with some ministry work!
Our plans to install a septic system have begun and it seems quite possible that we will get it in this spring. First, the ground has to thaw so the contractor can dig the necessary holes and ditches.
There are a few necessities that have yet to be done in the new building before opening. These include the upstairs and downstairs bathrooms and the floor in the kitchen. In addition, there are many smaller odds and ends to be done. We are praying that we will see the new facilities open this summer.
Daily life continues as we make God's will for our lives our first and utmost priority. We are proud of the willingness of the residents to learn more about Jesus and to share in the ministry of the mission as it grows and prospers under the hand of the Lord.
April 2010
The Walmart Foundation selected five non-profit organizations in Kenai to help by presenting them with monetary donations. This presentation of the checks was made at their Grand Opening on March 31, 2010. Friendship Mission received a check for $2,000. The Mission appreciates that Walmart recognized our work with the homeless men of the area as being a much needed ministry. The funds will be used for paying utilities, buying food and supplies, and helping fund the various projects needing to be completed in order to open the front building this summer.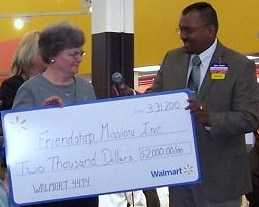 May 2010
In February we stated that our plans to install a septic system had begun and it seemed quite possible that we would get it in this spring. The ground thawed and during the week of May 17, the contractor dug the necessary holes and ditches.
June 2010
On June 21 a work team from the Lost Creek United Methodist Church in Stillwater, Oklahoma will be at the Mission for a week. They will be working on a variety of projects using the skills of the various team members.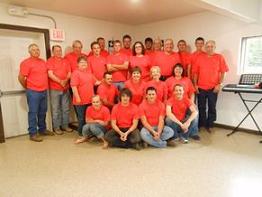 Lost Creek UMC Stillwater,Oklahoma
Also, beginning on June 14, the Kenai Christian Church Youth Group will be working for a couple of hours each Monday for the summer. From picking up trash to working on various projects, they will be kept busy, as well as, providing much needed help.
July 2010
It has been busy around here with the groups coming to help with clean-up, painting, and whatever was needed.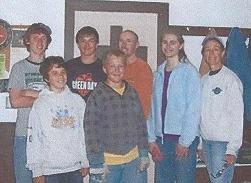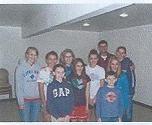 Kenai Christian "Alien" group College Heights Youth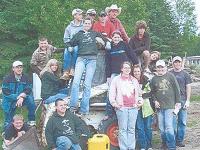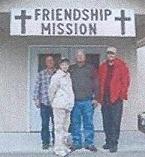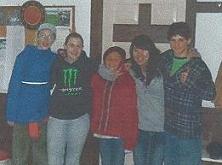 Youth from Monte Vista, Colorado VIM group from Oklahoma Cook Inlet Academy
Soldotna Nazarene Church
For the second year, we have been blessed to receive a $500 grant from the Kenai Peninsula Foundation which is an affliate of The Alaska Community Foundation. The funds can be used toward whatever we deem is necessary. Thank you for your generosity.
October 2010
We received meat and potatoes this month. Don Thompson gave us 100 lbs of potatoes that he had grown, and Dr.Boone, who went moose hunting, gave us part of the animal he had killed. Both of these were a real blessing.
November/December 2010
Work was done on the shower room by the installation specialists from Ceramic and Stone Tile Company. After cement board was in place on the walls, tile was put on the walls and the floor.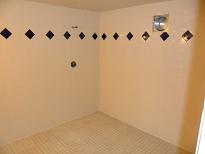 The completed shower room.